Tips to Get a Blue Tick on Instagram
Only the most popular and influential Instagram users have received a blue tick.
In fact, getting verified on Instagram can be incredibly difficult.
Verification on Instagram allows people to find the right account when they search for a particular celebrity or influencer.
It's not a fan account, or a fake account.
But Instagram only wants to verify people it deems important enough for someone to open fake accounts or impersonate.
If you are a "normal" person, there is no reason for someone to impersonate you.
So, from Instagram's point of view, there is no reason to verify you.
Below is a fun tool to estimate your chances of being verified on Instagram - this is in no way endorsed by Instagram and is just a fun way to check if you are on the right track.
1000 social profiles were analyzed and considered social factors that can play a role in Instagram verification.
What Can You Do to Help Get Verified on Instagram?
If you want to have that little tick next to your name, you need to make yourself into a "public figure, celebrity or global brand".
In other words, you need to be a real influencer.
But there is some evidence that you need to do this on a platform other than Instagram first.
This makes sense.
If you have a lot of real followers on Instagram, people can find you fast enough.
They are unlikely to get confused about whether your account is yours or not (unless you share your name with another influencer).
Therefore, you should first apply the recommendations here to another social network and create an influencer status there before using it on Instagram.
If you gain followers on Instagram too quickly, before you gain fame elsewhere, you may never be verified.
Build Your Followers and Engagement
Obviously, the key to becoming famous online is to be a real influencer.
This means you need a lot of people who want to follow you.
But more importantly, you want followers who will interact with you and engage with your posts and statuses.
There's no point in having irrelevant followers just to boost your numbers.
We've already covered how to become famous on Instagram.
While this focuses on making the most of Instagram's graphical structure, you can use many of these tips to build your impressive status on another platform first.
A basic requirement is to define your niche.
While it may seem like you will gain more followers by trying to appeal to everyone, you are unlikely to increase your engagement this way.
This is an area where the old saying "Jack of all trades and master of none" applies.
You need to build recognition for your expertise in your preferred subject area.
For example, Zoe Sugg first built her online reputation with her personal beauty and lifestyle blog Zoella.
She started her social media life with a YouTube channel where she built a reputation as a fashion and beauty guru.
This channel now has over 12 million dedicated followers.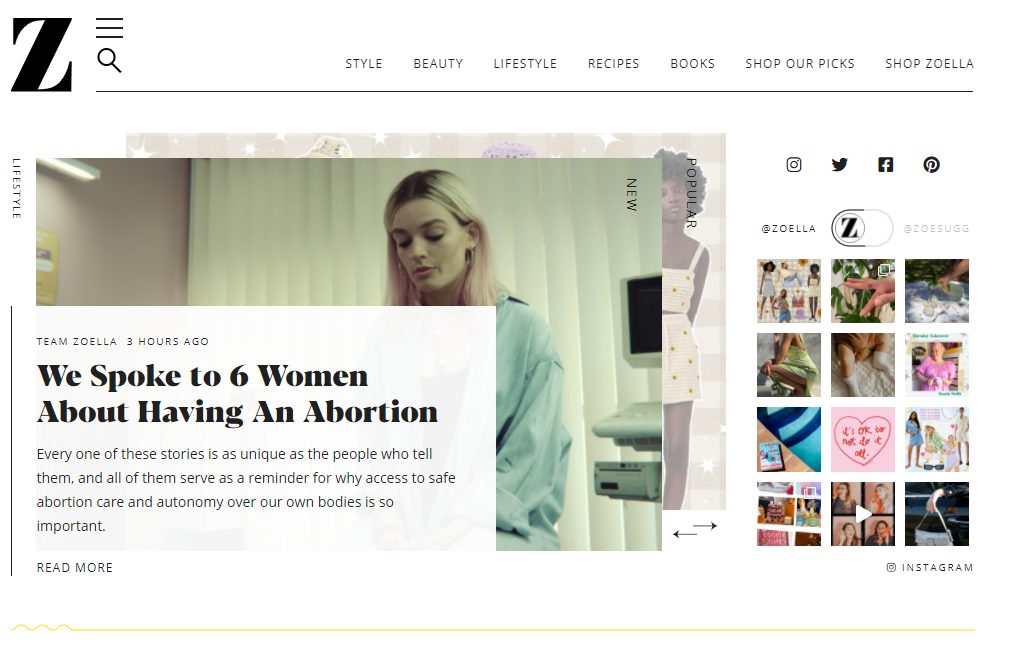 Having built her reputation on YouTube, Zoe was able to make a successful transition to other social networks, including Instagram.
She has now developed a sizable audience there, matching her followers on YouTube. Other people have opened similarly named Instagram accounts, so Instagram verified Zoe's account to avoid confusion.
Any interaction should be meaningful. There is no point in making a series of "Nice picture" type comments on people's pictures/posts.
Such meaningless comments do nothing to boost your credibility as a thought leader.
Avoid Bad Social Practices
Just like Google, Facebook and other major internet companies, Instagram is skilled at detecting attempts to game its system.
You need to avoid taking any shortcuts when trying to build enough reputation as an influencer to earn the coveted verification approval.
Never buy followers. Apart from the fact that Instagram will probably notice, it will lead to you having an "unbalanced" account, i.e. a significant following with very little engagement.
The people you buy as followers, if they exist, will not be interested in you, will never see your posts and will certainly never interact with you in any meaningful way.
Don't leave spammy comments. Neither Instagram nor its users will see you as an influencer if they associate you with meaningless "pretty picture" type comments that are no different from those generated by automated bots.
Finally, make sure your posts follow Instagram's community guidelines. You don't want to be the guy who gets banned by Instagram for sharing photos of nudes or your latest drug paraphernalia.
If you use Instagram the way they want you to and build your reputation as an influencer elsewhere first, the day may come when you open your account to find that Instagram has given you verification approval.
Getting verified on Instagram is difficult but not impossible.
Try it and Be Newsworthy
To be verified on Instagram, you have to be "someone". Just having a lot of followers is not enough. So make sure you are doing things that multiple news outlets are reporting.
Consider issuing a press release when you have something newsworthy to say. If you have done something in your area, reach out to your local news organizations and try to get press coverage,
We all know that bad press coverage is now on the internet forever. Well, so is good news - so take advantage of it when you have the opportunity.
However, keep in mind that Instagram does not consider paid or promotional content. So, your news reports should be real and organic, but you can use press releases to give them a helping hand.